GUEST POST: We love hearing from the derby community because everyone experiences derby differently. It's so great to hear what got you started and kept you coming back for more. Email us at collab@boutbetties.com to submit your story to share!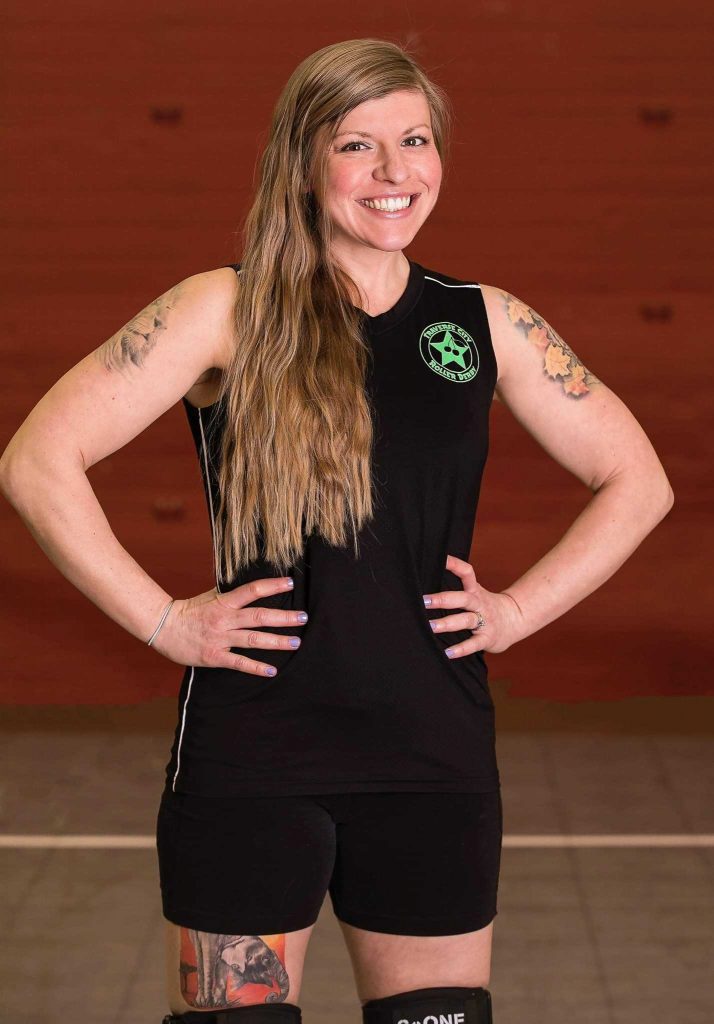 Post Concussion Syndrome.
I had never heard these words before this year. I was somewhat aware that concussions could go on longer than the normal healing time, but I assumed that was for serious accidents. REALLY hard hits. Car accidents. Loss of consciousness.

That isn't what happened to me. I got hit up high during a normal drill at a normal roller derby practice at the end of January this year. It didn't feel like a big deal. My neck snapped back and the neck pain and soreness masked the other symptoms temporarily. Within a few days, I knew. Because it wasn't my first. Or second. Or third. This was my sixth concussion.

I had headaches. I generally felt out of it, like a balloon at the end of a string. Screens and stress would make the pressure in my head worse. I had some dizziness. My emotions were heightened and mood swings were more frequent. I thought I'd heal fast because I'd had worse than this before. It seemed like a very mild concussion compared to my past experiences. I could function and the symptoms didn't seem to be bad.
Here's my biggest mistake: I kept participating in roller derby practice for three more weeks. This meant I was risking more impact. The exact thing you are NOT SUPPOSED TO DO. Finally I was so out of it and dazed at practice one night that I admitted my symptoms to my captain who made me gear down immediately. That couldn't have been an easy task and I didn't make it any easier by having a lot of feelings…but it was the right thing to do and I'm grateful to her.
Upon reflection, I decided I should take a break from roller derby entirely. In the past, I would have gone to practice off skates and assisted my teammates and coach in any way I could. With my extra feelings this time, I thought a mental vacation from roller derby might be in order. I had no idea what was going to happen next.
Within a couple weeks of my stay-cation from roller derby, the world took a stay-cation from roller derby….and everything else. The world went inside as a pandemic spread around the globe. I was grateful for the chance to heal without dreaded FOMO. I thought that maybe once roller derby resumed, I'd be ready to play. I waited for my brain to finish healing. I never told my parents about the concussion because I didn't want them to have something extra to worry about. I kept showing up for Zoom meetings because I didn't want to let anyone down or feel left out, but the toll it took on me was tremendous. I'd have to save up my energy all day and then I'd be done, just completely done after.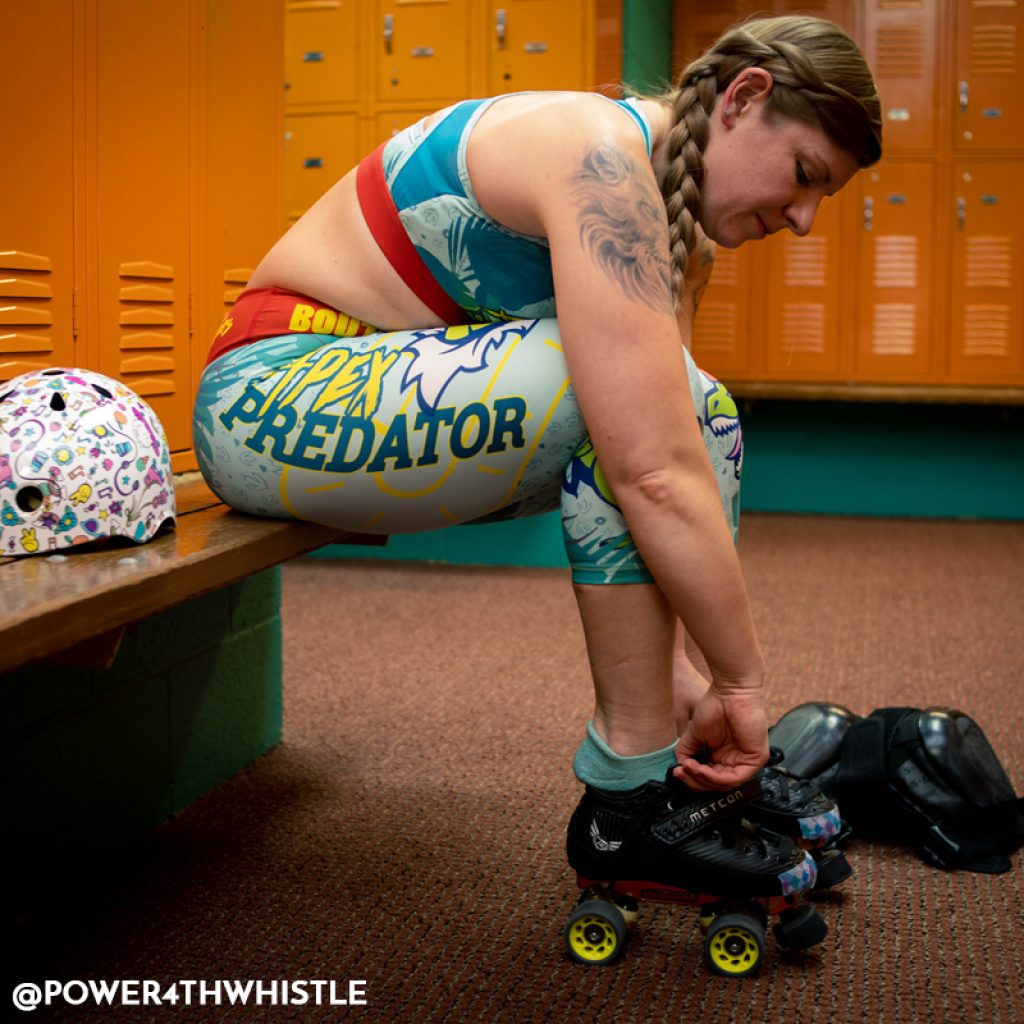 I made a plan. I put my screens on lower brightness and even attempted some blue light blocking glasses for computer work. I set goals, kept a growth mindset, and a sense of humor. I started strength training in April. I signed up for two virtual 5Ks as something to look forward to when I was ready to run. I started attempting light jogging in May. My symptoms came back strong for several days so I backed off for another four weeks and then tried cardio again in June. Same result. The virtual 5K packages sat unopened on a shelf.
I questioned myself if I was making things worse or better. Was I creating permanent damage? I thought based on my history that I knew everything about how to recover from concussions already but this was taking too long. Something was wrong. I didn't have answers and I was scared.
80% of concussions resolve within 7-10 days.

It has been 7 months. WHAT was happening? WHY wasn't I better?
My symptoms are not as bad as they once were, but they have not gone away. I am still tired ALL the time. My sleep patterns are erratic. I often wake up around 4am alert and can't get back to sleep for a long time. Then I'm exhausted when it's time to get up. I usually have a huge dip in energy in the late afternoon and have to choose between a nap (which has a 50/50 chance of making me feel better or worse) and coffee to push through it. Sometimes I get a second wind right before it's time to go to bed.
In late July when cardio put me back on the couch again, I started becoming depressed. Some days I would put on my workout clothes and go to the garage and feel…nothing. I didn't even want to try. I even wrote in my daily workout journal, "What's the point?" A friend texted me saying, "Isn't it great you have all this time to recover?" and I sobbed because it felt like there was NO END IN SIGHT. This isn't normal. I was asked about making more skating videos and I bawled my eyes out. I haven't put my skates on in months. Who am I if I can't skate?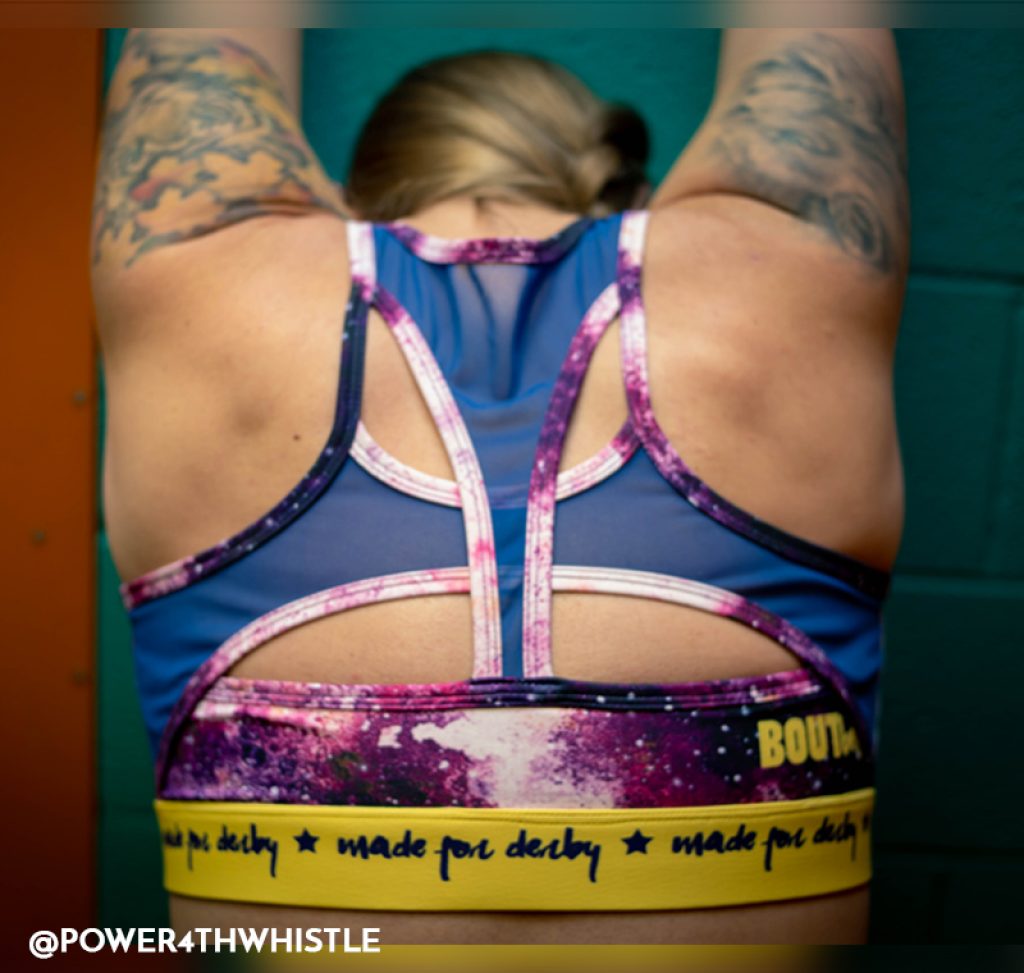 That's when I found out about Post Concussion Syndrome (PCS).
20% of people diagnosed with concussions can develop Post Concussion Syndrome.
Patients with PCS experience concussion-like symptoms at rest or in response to too much physical or cognitive activity, often forcing them to withdraw from their usual physical, professional, and social lives. It is more likely to develop in females, older adults, and those with a history of multiple concussions.
A good friend and former teammate helped me find a good podcast episode with information about PCS (see link below). I found a support group for people with PCS where educational resources and tips are being shared regularly. I have access to educational videos and I'm learning more about PCS and how to cope and recover. PCS therapies identify the worst symptoms for each patient, and target those symptoms with specific therapies to reduce the symptoms or eliminate their cause which is especially helpful in cases where some symptoms simply won't go away.
Living with PCS feels isolating. You feel loss of identity like I have been. It means so much to me if I can do something each day that feels like it adds value to the world.
Symptoms can sometimes be minimalized or dismissed by those around you which hurts. People are often surprised to hear I am still recovering which makes me feel like they don't believe me. I need to plan my day and week carefully because I never get to do as much as I want to without symptoms flaring up. I know my time limit for being social is about two hours before my energy dips and if multiple social events are set up in one day, I will find excuses to take breaks by going to the bathroom, putting on sunglasses so they can't tell I'm closing my eyes to rest, and asking my husband to do more of the chatting so I don't have to engage and can check out. I can put on a good show, but only for a limited time.

I have started a daily journal with time stamps for activities and how my symptoms are affected throughout the day. I am logging what I'm eating and drinking. I can and should do challenging activities, but not so far as they give me a huge spike in symptoms. I am underlining my activities in green, yellow, or red based on their effect on me. I am using blue to indicate restorative activities like taking a break, doing yoga, and animal snuggles.
I am on a better path to recovery now with the help of my support group. My doctor has referred me to a concussion clinic where I can make a better plan with people to help me based on my symptoms. I have no idea how long this will last and there's a chance I will continue to have flare ups for years.
My advice to anyone reading this: Please take Concussions seriously. Even if you've had them before. Within two weeks of having a concussion, if you meet with a doctor, there is a MUCH better chance of preventing Post Concussion Syndrome. I was under the impression you should not do any aerobic activity after a concussion for many weeks. I have learned that new information says you should get started on testing aerobic activity (carefully, monitoring your heart rate with a health professional) within four days.
There is so much still being learned about Concussions and you do not have to suffer alone. Join a support group and talk to others that have gone through it. And seek help from medical professionals who specialize in concussions. Ask questions and get the care you need.


Podcast episodes:

037 – Concussions & Career Threatening Injuries https://podcasts.apple.com/us/podcast/roller-derby-thoughts-037-concussions-career-threatening/id1426139579?i=1000436716430
Kaio-kensi Special Guest! – 087 – Concussions & Brain Safety, Chronic Illness as an Adversary, Training & Recovery https://podcasts.apple.com/us/podcast/kaio-kensi-special-guest-087-concussions-brain-safety/id1426139579?i=1000467116375
Concussion 101 with Dr. Molly Parker (about PCS)
https://podcasts.apple.com/us/podcast/do-the-thing-with-whole30s-melissa-urban/id1460152081?i=1000487764370)
Jackie Bauer is a jammer/blocker with Traverse City Roller Derby. Her roller derby podcast Power Through the Fourth Whistle can be found on all podcast platforms. Contact her at @power4thwhistle on Instagram.