GUEST POST: We love hearing from the derby community because everyone experiences derby differently. It's so great to hear what got you started and kept you coming back for more. Email us at collab@boutbetties.com to submit your story to share!
I started roller derby in 2012 at age 41. I read about a local derby team in the newspaper I believe. I was looking for a hobby while my husband was deployed. I have loved skating all my life but never heard of roller derby. I called around and found the small local team. I showed up and got information and ended up joining. It all happened so fast I really don't remember much of the early days. I cracked my pelvis as fresh meat. I thought I had just broken my tailbone, but x-rays showed different. They did not have boot camps back then. You joined; they showed you how to fall and hit. I was trained by one of the best, Tex is her name. I remember going to the very first game I was invited to watch. Oddly enough it was at the rink where I currently practice today! I remember watching and was amazed at the athleticism of these young ladies. I could never forget my first derby crush; Roxy Barracuda. She was amazing on that track and I wanted to do that! I wanted to jam! My crazy ass would think that then!
So as soon as I started, I had to take a hiatus to let my pelvis heal.  I lost track of derby for a while, but found it again with the same team, but a new coach and a new group of ladies. I fell in love with the game even more under Coach Rob. During this time I was also already going through IVF multiple times and during each treatment I had to stop training. It was the toughest years of my life looking back. I wanted to play derby but we also wanted to get pregnant. The times I did get to play were wonderful. I left derby again for good (I thought) because we really wanted to have another baby. I had to disconnect from derby and the physical demands derby requires so I could focus on baby making.
Fast forward and after a total of 10 IVF cycles (many before Derby), success in 2014! We had boy/girl twins in June of 2015! May 2016 I decided to join a league over an hour away. I really wanted to play again, so I reached out to them, Pensacola Roller Gurlz (currently re-branded as West Florida Roller Derby). I breastfed for almost 30 months, so I had to figure out how to play derby, nurse my twins, and make practice twice a week. It was hard to figure it out at the time because I was also going through major postpartum blues on top of already having chronic depression and anxiety. I knew if I made it work, I could pull out of my depressive episodes. I got full support from my friend and teammate Smacker, who volunteered to watch my babies if I wanted to play again. My heart was bursting with joy!  That was my sign from God. I would often breastfeed on practice breaks and before bouts, during halftime and after in full derby gear. It was hard but I did it!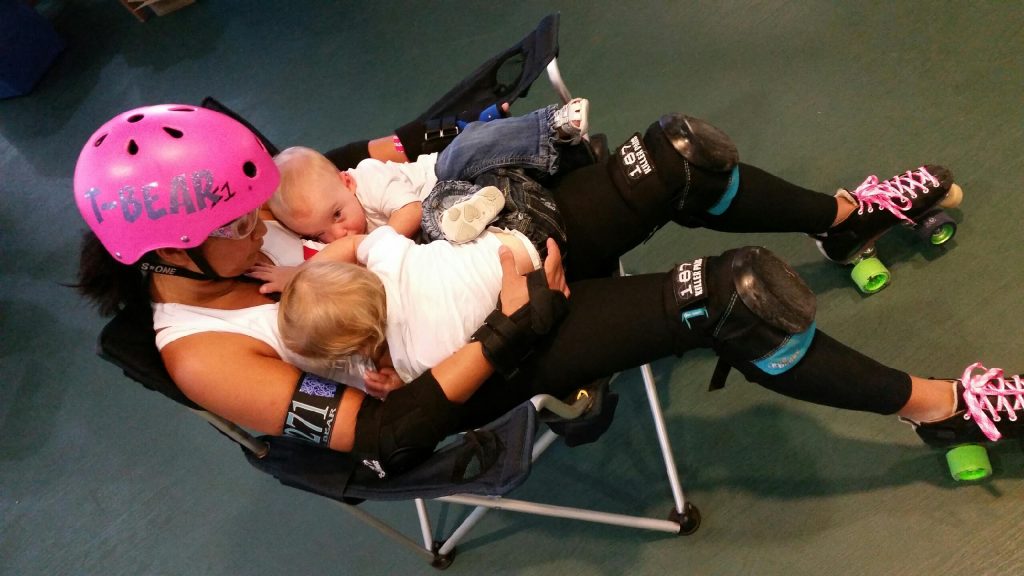 I could not do what I do without a supportive partner at home, my husband. He is my biggest fan and my rock. My best friend. I am blessed with many friends who gave me support by cheering me on from afar or at our bouts. I inherited a whole family from my current team. They are the best because they allow me to hit them and not press charges. Hitting and getting hit is also very therapeutic when you have had a hard day. Roller derby seriously saved my life (that I wanted and tried to end during one of those baby blue days). It's an amazing outlet for this crazy world we try to thrive in these days with the constant challenges one after the other.
I enjoy the challenge of training a little longer and harder. The most important thing I learned in derby is that you must cross-train to be effective for your team and yourself. Condition your body is so important to prevent injuries to yourself. It takes me longer to learn new things than most people. I have to remind myself to be gentle and patient with my personal growth in the sport. I don't compete with anyone but myself. I cannot do what the younger generations are doing in our sport. They are super human athletes. But with the same token not everyone my age (49) can do what I do either. I train hard and I play harder. I love this sport because it keeps me fit mentally and physically. I believe this will be my best season yet. I have had a lot of mental and physical health challenges through the seasons but I think I'm finally figuring out how to beat it. Roller derby is more to me than just a sport, it's a totally different lifestyle. I really enjoy it, and if I could play this sport forever, I would. Being on that track is heaven on earth. When I first started playing, we had a player on our team who was in her fifties at the time, and I have met or known many other skaters her age or older still playing.  They give me hope I can keep doing this for many more seasons to come.
Roller derby is more mental than physical to me. I love my league. I currently serve on the BOD as President (4th season) and play on All Stars/travel team. I love subbing for other teams and am willing to help anyway I can to spread the love of derby. I suggest to anyone wanting to find derby now or again, seek out your tribe. You may have to try a couple of tribes before you find one that fits, but I found mine and I love them!
I wish more individuals would get out of the rat race and do something for themselves more often. Life is too short to not try new things or challenge yourself out of your comfort zone. My derby time is twice a week 5:30p-1030p. That's 10 hours of "ME" time. We all need and deserve free time to do self-care or whatever to take care of you and your mind, body and soul. I just happened to pick the coolest sport to play as a hobby! There are no excuses. Whatever you find joy in, go do it. I also lace up whenever I get a chance for trail skating. I believe for myself skating and staying active is the best way to beat mental health issues most of the time. I'd rather skate than put toxins in my body to help myself stay healthy. You are not selfish for bettering yourself mentally and physically. Roller derby does that for me.