GUEST POST: We love hearing from the derby community because everyone experiences derby differently. It's so great to hear what got you started and kept you coming back for more. Email us at collab@boutbetties.com to submit your story to share!
My name is Teegan Bowyer, aka Peeches N Screem.
I'm 14, and I've been playing roller derby with the Columbia Junior Rollers in Columbia, SC for over three years now. I first started skating when I was three years old, and I got those little plastic skates that you wear over your shoes. I would skate around the house all day, and then sleep in them at night. The first time I ever tried to wear them outside, I took a step out the front door and fell right on my butt. Fortunately, that didn't stop me. I kept skating, and I'm so grateful I didn't give up.
When I was four, my mom took me to the local library for a summer presentation. That was where I met "Inskatiable", from the Soul City Sirens, for the first time. She came in wearing full gear, and talked all about derby and how it's played, and I knew in that moment I wanted to play. I looked at my mom and said "Mommy I want to do that!"
Shortly after, we started to find bouts to go watch. Any game we could find within reasonable distance, we went to. We lived in Grovetown, GA at the time, and would drive to Atlanta, Columbia, and even Charlotte sometimes if there was a game I wanted to see. When I got a little older, we looked for a junior team, but the closest one was about 90 minutes away in Columbia. We kept going to bouts, and being as involved as we could, but I knew I wanted to play. By the time I turned eleven, I was still begging to play and even though it was a long drive, my parents said if it was something I really wanted, then we would make it work.
My mom got in contact with Holly Hunter, the coach of the Columbia Junior Rollers, and asked if it would be okay for me to come check out a practice. She said I was absolutely welcome and I was thrilled to get to try a practice, and to meet Holly after years of watching her play! We went out and got gear, a helmet, and a mouth guard. I was ready! July 22nd 2015, we loaded up all of my gear and drove an hour and a half to my very first practice. I was so nervous, but excited, just ready to finally play. When we got there, I met the coaches, put my gear on, and it was go time. I got out on the track, skated with the team and I knew immediately that derby was a perfect fit for me, and was going to be a huge part of my life. Flash forward a couple of months, to September 12th 2015. That was the day I got my first jersey, and played my first game. Our women's team, the Columbia Quad Squad was invited to Charlotte, North Carolina to play the Charlotte Rollergirls, and my team was going to play the Gastonia Mini G's. The G's didn't quite have enough people for a full roster, so I, along with a few other of my teammates, played for them against our own team. I can't explain how anxious I was before the game, but let's just say I thought I was going to explode! Thankfully, I got some amazing advice from one of the Quad Squad ladies, Poison Violet. She said, "Take all of your nervous energy, and turn it into adrenaline. Use it to your advantage." Those words stuck with me and luckily, I didn't die, and managed to have fun!
I'm so incredibly grateful that derby is a part of my life. It has made me so much more confident, more social, stronger, and has made me the best version of myself. Now I play for our All Star team, and I coach the level two's every Tuesday after endurance practice.
I've had some amazing opportunities so far, like training with Team USA skaters, meeting some of my derby idols, and playing in some major tournaments. I've made friends all over the place. I have the best team a girl could ask for! We have ups and downs just like any team, but at the end of the day, they're my FAMILY, my second home. I'm hoping in a few years I'll get to continue my journey into playing for the Columbia Quad Squad. If I get my way, I'll play roller derby forever. I'm Peeches N Screem, and this is my derby story.
Peeches, #246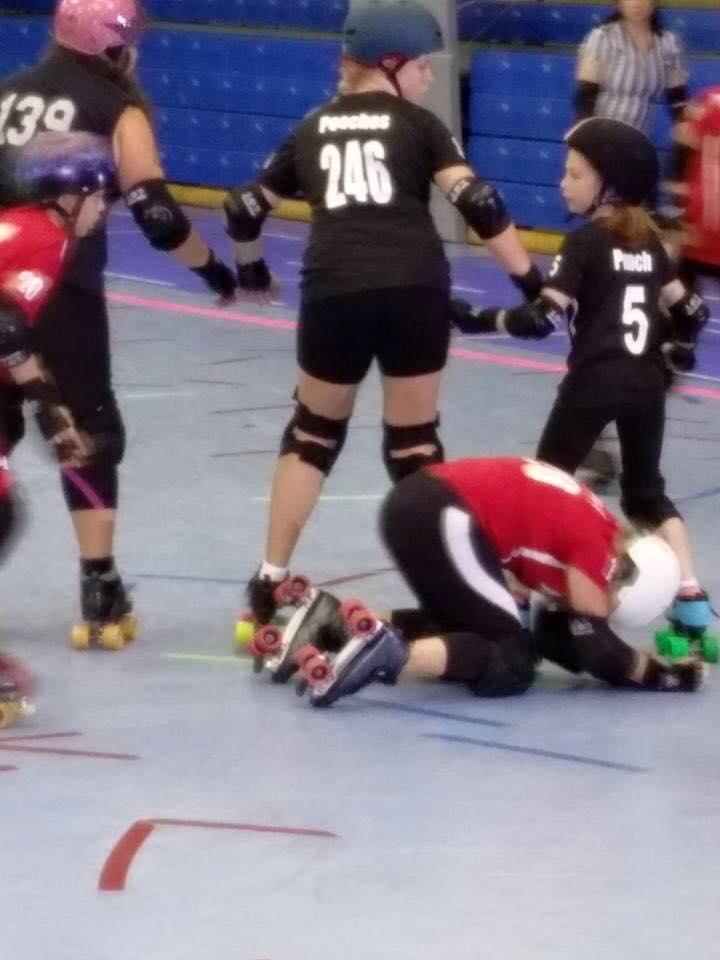 Peeches at her very first game in 2015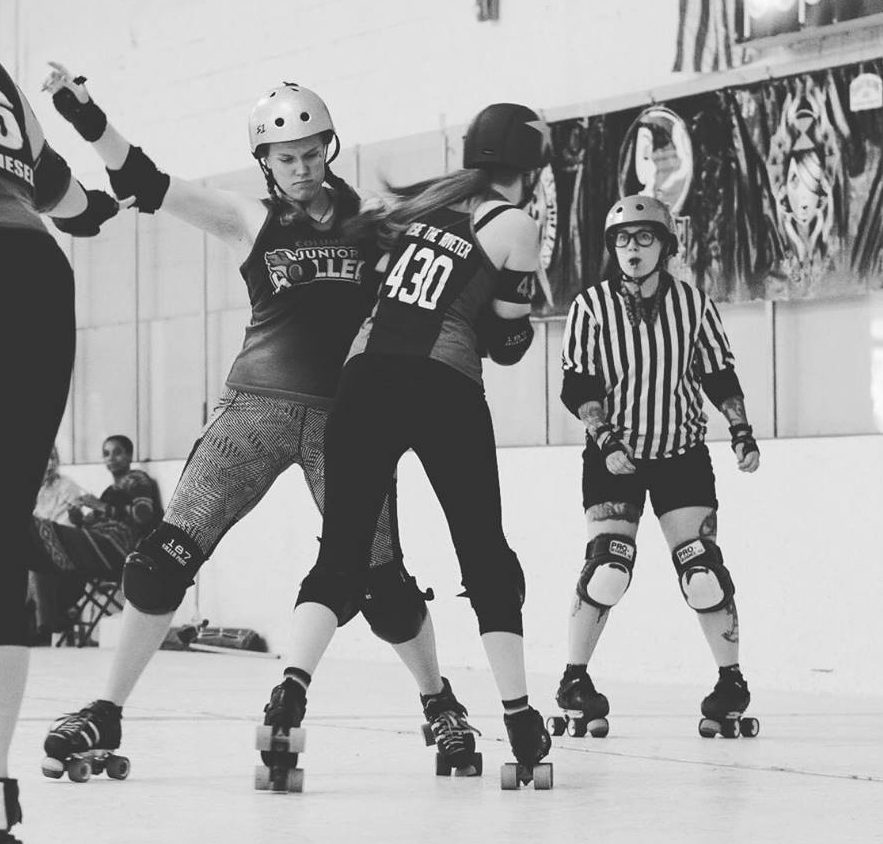 Peeches being her badass self
Photo credit: B and M creative images