GUEST POST: We love hearing from the derby community because everyone experiences derby differently. It's so great to hear what got you started and kept you coming back for more. Email us at collab@boutbetties.com to submit your story to share!
Couch to Roller Derby In My Sixth Decade
There Is A League For Me? In winter of 2017, I was working as a contractor, commuting to work three hours a day, and for the time living to work. I attended a home game exhibition of Madison Roller Derby, and discovered the Madison Men's Roller Derby organization had a table top, and were recruiting. "So, I can start off with non contact? Great!" Before I entered a full contact sport in my sixth decade of life I thought I better have a few conversations with my wife, General Leia, Emperor of Ancient Greece (not a skater). Our agreement was that training starts with non contact, and with my job, I was looking for recreation and an exercise outlet. And, our dialogue would remain active as I progress with this newfound hobby. Thus my Derby career began with very humble goals.
In winter of 2018, I changed jobs to an office very near to home with an onsite fitness center. Building on my base of skating skills through 2018, I qualified for my first contact practice. Incidentally, this particular practice was a special program with a name to match: Complete Brutality. Complete Brutality was indeed vigorous, fun, and bruising. Somewhere between being reunited with endorphins, and Derby sillyness, I launched a photo album on social media dedicated to the bruises that come with the sport. Does anybody else curate a photo album of derby bruises? I caused my Auntie-In-Law some concern with that stunt. I knew I needed to start some exercising beyond attending practices, and was somewhat lost over what to do. So, I started by finding an accountability partner with a teammate, and we kept track of each other via Slack.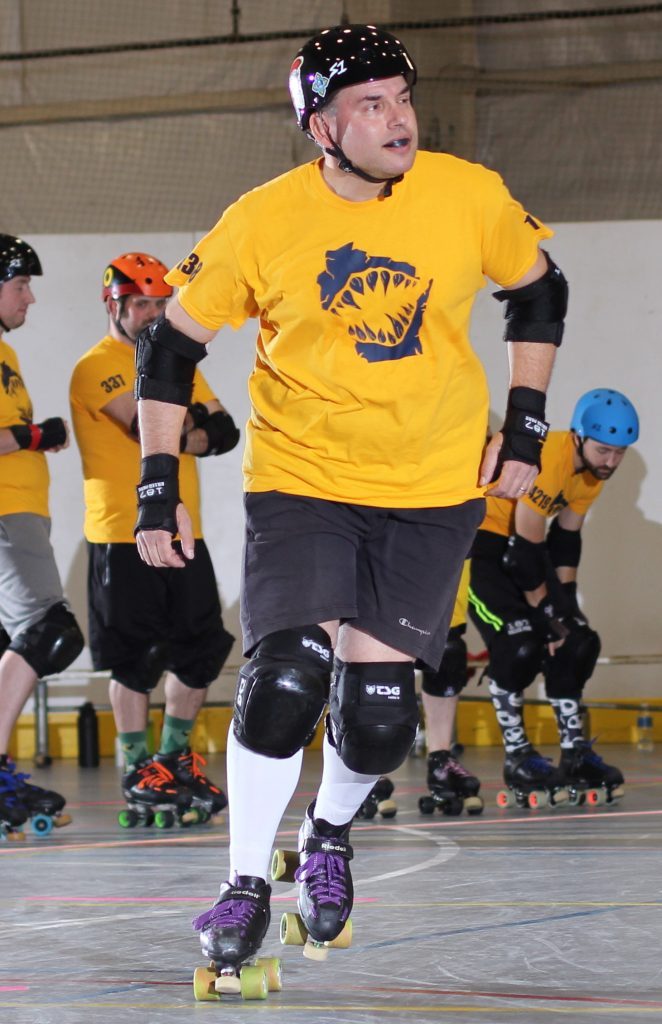 At the start of the 2019 season, Madison Roller Derby generously allowed our tiny league to perform a mini scrimmage during the halftime of their home team bout. Being qualified for contact practice qualified me for this public exposition too. The average competition years of my league members was roughly six months: we practiced with passion and angst. We also fostered a few experienced skaters to fill our numbers so some of us could play alternate jams. The scrimmage was a rush of emotions, and a series of very fast events. I do remember I got to jam. I seem to recall being swept out of bounds by an Oak Tree, and a band of Orcs wielding axes came to my defense. In the end, I won Lead Jammer status, and scored one point. My competitive phase has launched with excellent stats!
Back to the challenge of qualifying for interleague competition
On my good weeks, I enjoyed four vigorous workouts a week, including skating, core fit, and aerobic conditioning. My body felt like it was waking up, and I was thrilled to have muscle tone. There were minimum skills assessments, and there were some serious challenges. My balance skills, and ability to keep a strong low derby stance needed work. I continued on accepting classes as they were available, and re-learning trail skating from 35+ years ago.
My struggle to pass the minimum skills requirement (excluding 27/5) became frustrating. Like a struggling student grubbing for a passing grade, I started to pester our coach Tapes for feedback per the assessment standard. She provided feedback in thoughtful general terms, and I was not being a good listener. Patiently, she agreed to meet over coffee. We went over the entire set of requirements, and provided specific things to work on. With our meeting in mind, I also searched social media for some footage of my skating. Just as advised, I saw my form, and how my lower back muscles would fatigue sending me folding forward uncontrollably. Even though I was feeling more in shape than I had been in years, I had serious core development in order to be ready for roller derby. I began to feel like one of my high maintenance vintage motorcycle restoration projects.
Having goals to reach, I started to develop my routine.  Core classes were blocked off on my calendar. I learned about Iron Octopus's Takedown The 27/5 program, and I started it in earnest.  I would repeat the program a few more times before passing my mins. Every Monday, I downloaded and listened to the latest Power Through The 4th Whistle Roller Derby Podcast, and took episodes 20 (Niyo Sobo – I can do it!), 23 (How to pass your 27-in-5 and more, advice for Rookie), and 24 (How Do You Get On a Roster?) to heart.  Additionally, still unqualified, I traveled with my team for a three team round robin match against the Twin City Terrors and the St. Louis Bee Keepers, to Jam Coach Mirror. I also Jam Coach Mirrored for my team at Udder Chaos.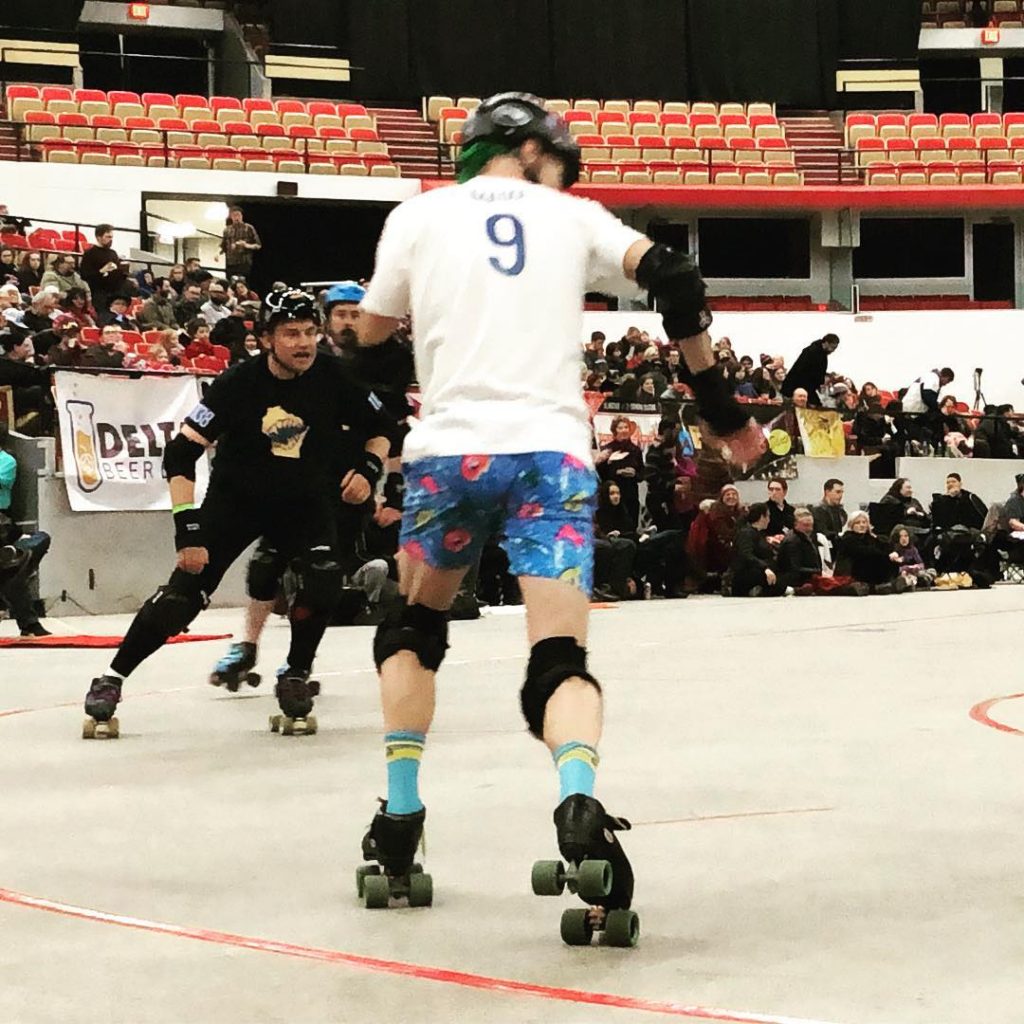 My approach to improve my skating skills included extending my on skate time outside of practices. I joined a group of skaters in Madison for trail skating, and also started to go to public parks to work on my skating skills. A group of skaters from the Madison skating community registered for the Apostle Island Inline Skating Marathon.
I also started catching a third skating practice with neighboring leagues. The third practice was extra special because it meant leaving our home court made of squishy energy robbing sport court for a nice slab of finished concrete. Elbow contusions made it into my photo album, and faster lap times appeared on my white board in the office. I also catalogued my progress on social media using the tag #DerbyDiaries.
In May, I passed the minimum skating skills requirements. To celebrate, the very next day I went to a skate park, attempted a drop into a half pipe, fell and fractured my wrist. At 53 years old, my wife was incredibly patient, but not happy!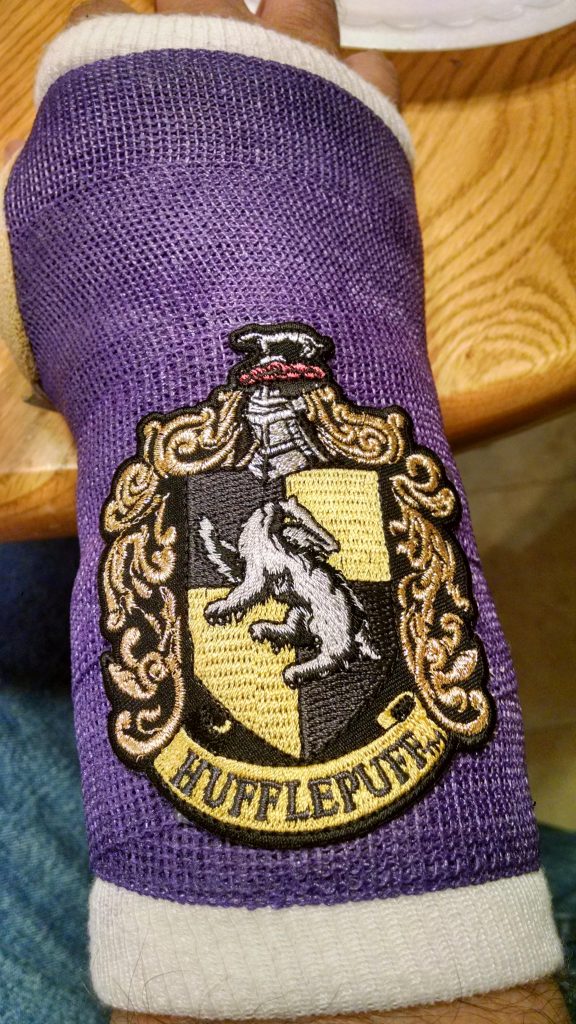 Stop, Reflect, Adjust
Reflecting again on the advice of my peers for beating the 27/5, I realized their perspectives are from lifelong athletes. I was not able to lay out all of the reserved energy in the final minute when I was gassed at minute-two. It became clear that I needed to build on many things. Then there was the planned participation in the Apostle Island Inline Marathon. Being in a cast helped simplify my options. So one week after my fracture, I began running. Calculating an ideal circular path around the oval track, 27 times is very close to one mile. My first goal was to run a mile without pausing for breath, then work on building speed. I published running stats to social media, using the #DerbyDiaries tag, and also charted my progress on a Google Sheet.
Returning to skates, wrist in cast, I sought guidance on skating form from more peers. Black Magik, and Hitch were my endurance coaches helping me improve the efficiency of my crossovers.
In June, I was freed from the cast, and returned to trail skating. Improvising across the terrain of Madison quickly taught me a lesson of how hills on skates are radically different than on a bicycle, at least for my current level. My wrist was bruised, and so was my ego. Turning to my middle aged friends for advice resulted in some broad ranging feedback from "I keep my weight down, workout seriously, and have an amazing ortho Dr that screws me together when needed", to "dude… A 25 year old would still be hurting. Don't be so hard on yourself for that."
Mid June was the Apostle Island Inline Marathon. My friends from the Madison Skating Community organized shared travel and lodging, and I booked an extended weekend with my wife and child for a "Lake Superior Weekend". Resolved to accept whatever may happen, I attempted an early bedtime while my night owl family enjoying a movie, and settled in for the race the race starting early the next morning.
Race Day at the Apostle Island Inline was a wonderful experience. There were hundreds of contestants ranging from elite speed skaters to recreational skaters. Very special to me was the reality that my starting wave included several men aged 50 to over 80: it was validating to not be the oldest person on skates! Our Madison contingent of Quad Skaters was a rag tag team of athletes out for a fun day on skates. My excitement throughout the event was barely contained: I sang to myself, and to other skaters both for the joy of the moment and also to check my level of exertion and if I was pacing appropriately for my distance goal of 17.4 miles. The pavement on Madeline Island is ideal for skating on. I did my two laps, and exited the track with my knees and feet on fire. Later that day, I caught up with my wife and daughter and we toured the shops and sights of the island.
Back to running, my per mile pace started at 15 minutes/mile but eventually reduced to 12. Continuing on my quest for rebuilding lost endurance, I attempted sprints. It was gratifying to do sprints as I have not done them with any proficiency in over a decade. However the next day, I was reminded that my knees were not happy at all. Review with league member Loki uncovered the benefits of hill sprints. This was an excellent way to hammer the cardio, not the knees.
Return To The Concrete
Unfortunately the venue for my third skate practice was sold, and the local league, the Beloit Bombshells disbanded. Fortunately, the Circus City Derby Dames of Baraboo, Wisconsin agreed to let our league members join their weekend practices. The league president Panda Monium led regular practices guiding a group of 101 level skaters through their fundamentals, and guiding me to fine tune my crossover stride into more efficiency.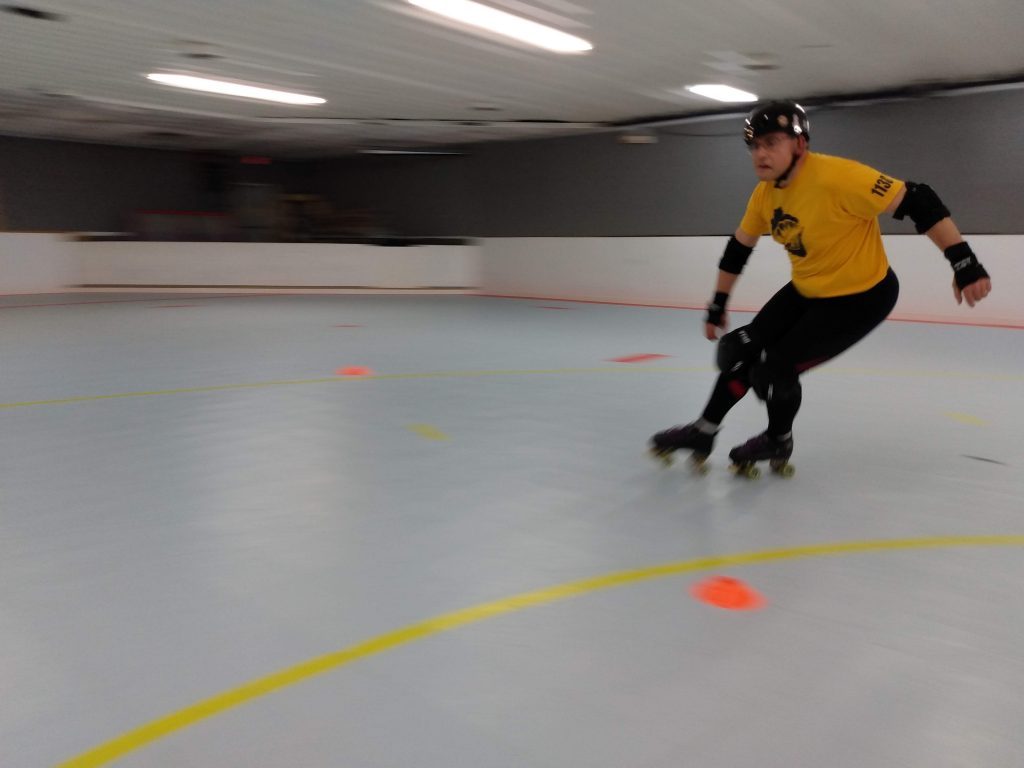 In September, the Circus City Derby Dames held a mixer scrimmage which I participated in. I brought my family to watch me play, and they got to see me run a very satisfying 12 point jam. At the end of that practice, a team mate, All Beef Surprise, suggested I take a shot at the 27/5. That was the day I cleared my mins.
Derby Life Continues, With New Challenges. Stop, review, adjust, again.
I have enjoyed competing in a few regulation, non sanctioned bouts when I removed myself from contact play because of a shoulder injury. Review of my playing style, led to an easy conclusion that I have an opportunity now to increase the range of my playing styles. Additionally, I am also officiating games, and working on being a more effective Outside Pack Referee. My journey continues as I regularly adjust my exercise routine from rehabilitation to rebuilding muscles and aerobic capacity.
Darth Spartacus is a Skater and Skating Official affiliated with Wisconsin United Roller Derby. Contact him @DarthSpartacus1138 on Instagram.