GUEST POST: We love hearing from the derby community because everyone experiences derby differently. It's so great to hear what got you started, what kept you coming back for more or even what made you stop playing Email us at collab@boutbetties.com to submit your story to share.
Since the beginning of my Roller Derby career, I've always noticed that there was a lack of diversity (black folks) within this sport. At first, I thought it was just the neighboring teams, but when I decided to start traveling, I then realized it wasn't a fluke- this was the real deal- black people don't play this sport.
So I began to ask my brother and sisters why they didn't play this sport. Some replied, "oh I don't want people hitting me" or "I don't know how to skate". But then I came across that former Black skater, who quit simply because of encounters with racist teammates.
Of course, I didn't believe it, the roller derby community had a way to drown me with love, care, and fun. But sadly, there's a dark side to the sport. My blindness led me down a path of not noticing the white feminist culture within the sport. I became blind with "Acceptance"- feeling accepted by the community was the best feeling, so I forgot who I was until shit really hit the fan.
I came across a ref that told me that because I used a black marker on my black skin, the contrast wasn't right, I should've used a white one….. why would you suggest that when everyone in this sport uses a black marker? At that point, I was broken, I couldn't believe It. My mind, body, and soul burst with anger. God, I wished he was a blocker at that time because I would've hit him so hard on purpose.
After my ref encounter, I bottled it all up, put my pride to the side (again) just to encounter an entire team and staff of racists. So I said F*** traveling because I'd be damned if I'd let another person disrespect me. That same year, the Atlanta thing happened, and then I finally grasped the racist air.
I feel like we're puppets being used for our abilities to kick ass in this sport. But, for some reason, we get labeled "aggressive" or get told we're playing too hard when roller derby is a full-contact sport. Currently, in 2020, WFTDA decided to have a live feed about the current situation within the Black community. Yet, somehow, the important topics weren't mentioned. Nor was there an African American person on screen. Yes, I know there were POC in the feed but they weren't shown. We needed a black woman or A MALE, a voice, a face… just something. Someone to bring attention to these things and talk about them live. We were waiting, but sadly, we waited and wasted an hour or so on BS.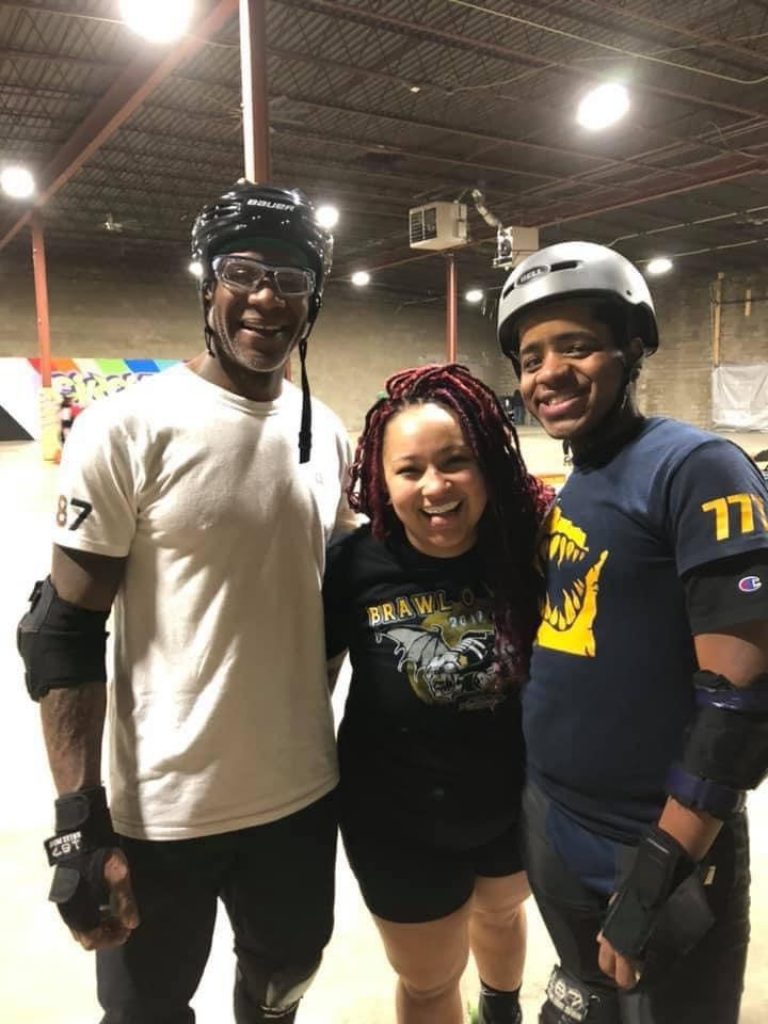 WFTDA here are some ways to make this sport more inclusive:
Get rid of that how not to be a racist course you have, it's not a good look in my opinion.
Remove and ban teams, Refs, NSOs who have a history of complaints about racism. Putting them through a course is telling them it's ok, but here's a blanket to cover you.
Reach out to predominantly Black communities and donate to Black businesses and public schools because they're suffering.
Invite leaders and activists to your "inclusion meetings" and ask them for their opinions.
Educational sessions would work if they're led by a Black person, or if a Black person has written or approved the program.
Have a set policy on racism and equality within the sport, don't allow several chances.
Teams need to remove racist teammates ASAP.
Partner with MRDA again, that alone speaks for itself.
Lastly, stop asking us- because y'all know what to do. It ain't that hard to look up "how to make an organization less racist". I choose not to mention the team(s) or ref(s) I've encountered because of personal reasons. Do not ask or inbox me for their names.
-Black Magik 777 Wisconsin United Roller Derby