Each month, Bout Betties donates a portion of every subscription purchased to a randomly chosen league. The league chosen for March 2020 is E-Ville Roller Derby in Edmonton, Alberta in Canada.
E-Ville was formed in 2006 and is a member of the Canadian Roller derby Association. The league has two home teams, the Berzerkhers and the Slice Girls, and two travel teams, E-Ville Dead and the Living Dead. Their officials team is called Ref'd for Dead.
As part of its support of E-Ville Roller Derby, Bout Betties interviewed two of its skaters to find out more about E-Ville and what makes roller derby important to them.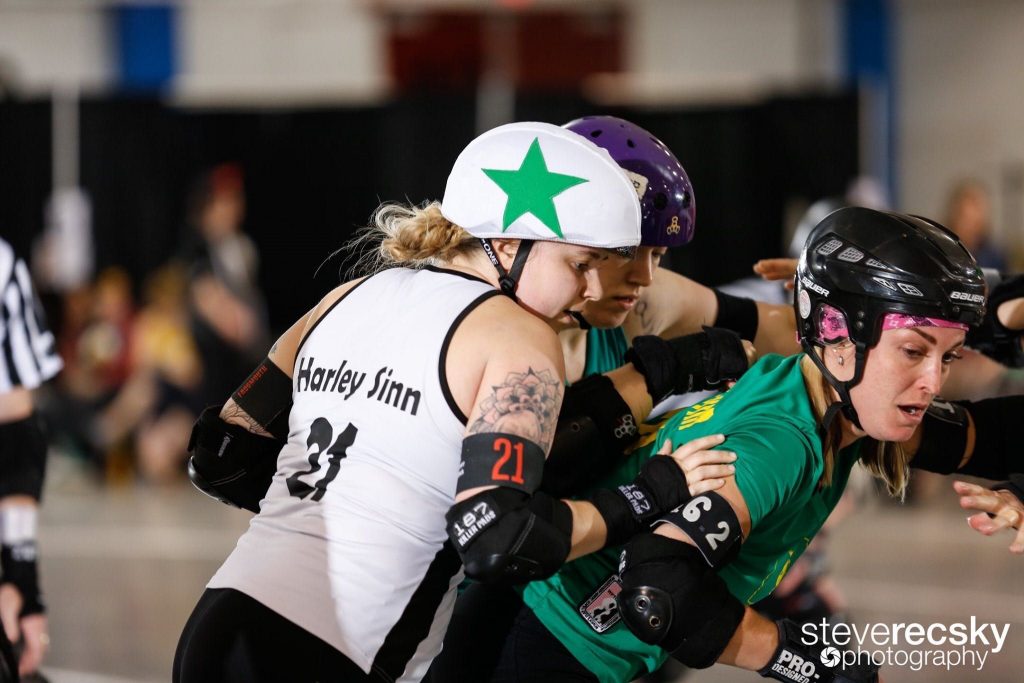 A Minute with Harley Sinn of E-Ville Roller Derby
Position: I'm a jammer primarily, but I'm also looking forward to really improving my blocking, so I can be comfortable doing both!
Role within E-Ville: I'm on the fundraising committee, and, hopefully, I can help my league with more this upcoming season. I really enjoy helping with our events in the community.
Years Playing: This is my seventh year playing roller derby.
Favorite Derby Moment: The first game I played with Team AB roller derby vs Saskatoon Mindfox last fall. It was such a fun game and I really enjoy playing with and against all those players, they're great people!
Pre-Bout Pump-Up Song: My pre-bout song list changes, but my current favorite is Outer Space by Yelawolf.
Hobbies Outside of Derby: My fave hobby outside of derby is downhill mountain biking. I just recently started to learn last year and am hooked. It's a great adrenaline rush.
Fun Fact: I taught myself how to skate better for derby by wearing my skates at work all day (I work in a hangar), for an entire summer.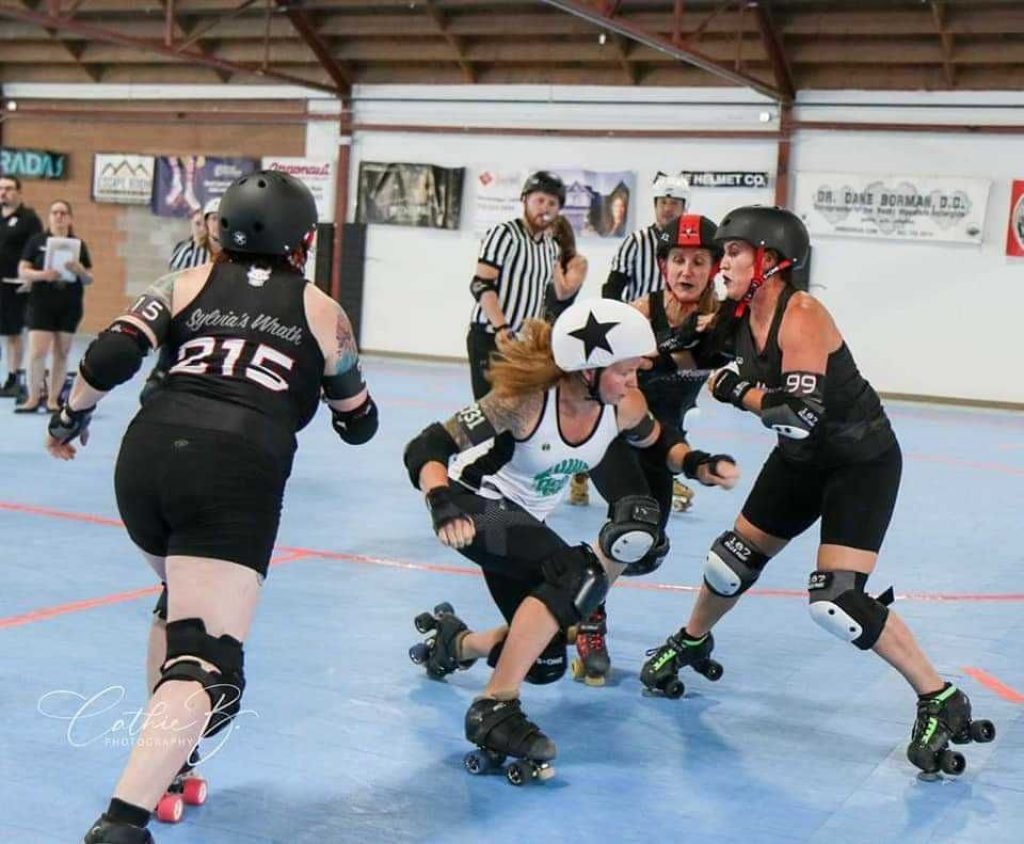 A Minute with Taz of E-Ville Roller Derby
Age: 31
Position: I bounce between jammer and pivot. Whatever position my team needs me to fill.
Role within E-Ville: I am on the fundraising committee. I am a carpenter by day, so I find smaller jobs like shingling a roof, building a garage or deck, etc.; I supply the tools and the knowledge and all the ferocious ladies of E-Ville help finish one of these small projects. All proceeds go to the league.
Years Playing: 10 years this year.
Favorite Derby Moment: …. so many. This community is beautiful and supportive. Fav moment is when (eons ago) Team Alberta won against Team Ontario. Probably one of the most intense games I've ever played.
Pre-Bout Pump-Up Song: I have a list of four I usually listen to prior to a game. Chains by Shaman's Harvest, Bullet in my Hand by Redlight King, Remember the Name by Fort Minor and Headstrong by Trapt.
Favorite Hobbies Outside of Derby: Crossfit, hunting and wood working.
Fun Fact: I have had to change my number a couple times but always stick to a theme: Cribbage. 29, 31 or 2931. I've been going to crib tournaments with my grandfather every month for the last 14 years. I'm still the youngest by about 50 years. I'm really good at counting points on and off the track.